---
Farrar Sails, Inc.
6 Union Street
New London, CT. 06320
Contact: Kevin Farrar
860-447-0382
860-439-0340 (fax)

High Performance Cruising & Racing Sails, and Sail Service.
About Farrar Sails - Jonathan's Bio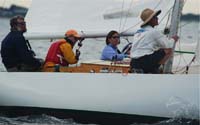 Farrar Sails, Inc. was started in April of 1987, Kevin and John Lucey leased the top floor of a large factory building on Pequot Avenue in New London. This space had close to 6000 feet of floor space and was well lit with natural light from the large factory windows. Kevin and John where producing dozens upon dozens of International 420 and Blue Jay sails as well as cruising and offshore racing sails. The loft stayed in this location for the next 12 years...