Farrar Sails - Cruising and Racing Sailmakers - New London, Connecticut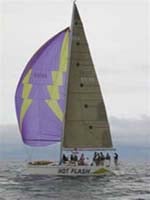 We are sailmakers.
We incorporate decades of sailmaking and sailing experience into every sail we create. We are experienced racing and cruising sailors who will work with you to create a sail that will meet your needs and exceed your expectations.
Whether your goals are day sailing, coastal cruising, winning Block Island Race Week or winning your One Design World Championship, we have the skill, experience and technology to create a sail that delivers the best value - no matter how you define it.
We deliver value.
Our advance CAD sail design process allows us to create custom sail shapes - this is not pre-made sail design software - we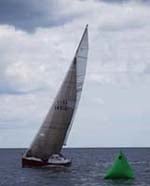 use AutoCAD and we can control every aspect of sail shape. At our New London, Connecticut Sail Loft, our goal is to build the very best sail and that mission starts with the design process and continues through materials selection and proven sail construction methods.
Farrar Sails News
Kevin Farrar, sailing with Charlie Van Voorhis representing Fishers Island, won the 2007 IOD Worlds held in Nantucket in September. This is the second world championship for Charlie.

Charlie and Dave Peck of the Niantic Bay YC won the 2007 Blue Jay Nationals sweeping the series with 6 firsts using Farrar Sails.

Farrar Sails win IOD Class at 2007 Marblehead NOOD -
Jester, skippered by Charlie Van Voorhis, kept finishes of 6 firsts and a third in the 11 boat fleet to win the event. Charlie is a member of the Fishers Island IOD Fleet.

Summer 2007

Our Club Cruiser sails have been very well received this summer. These are high quality cruising sails designed to deliver great value to the cruising and day sailing sailor. Full features, superior design and high quality finishing all at an affordable price. Contact us today to learn more about our Club Cruiser line.

We have been building sails for a wide range of race boats, from delivery sails for the new RP 55 Rima to a racing main and asymmetrical spinnaker for the 19 foot long, Five, one of the smallest PHRF racers in New England and 2 time PHRF New England Champ. We are currently building a Maxx Carbon max roach main and battened jib for the yet to be launched Brouwer 33.

We continue to sail in the International Class and Kevin just qualified for the Worlds for the second year in a row. Sailing Kahoutec helps us further refining our designs for this classic one design.

Our Canning 23, Gnat, is performing well with her new keel. Gnat won the Mystic River Mudheads Spring Series and Class C-4 at Off-Soundings.

Jonathan Farrar continues to coach the US Womens 470 team this summer in preparation for the US Team Trials.
Customer Testimonials

See what our customers are saying about us!